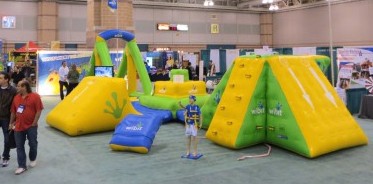 The last few days we enjoyed attending the largest camp conference in the world at the Atlantic City conference center and are feeling excited, inspired and energized to continue planning for Banner's 52nd summer. Stacy, Howard, Niki and I attended a three day conference with over 3,500 camp professionals. Each day sessions were offered and led by expert camp trainers, child experts, marketing specialists, staff trainers and so many more camp professionals and speakers.
The week began with a focus on staff training, recruitment, utilizing social media for camps, managing staff and lead into the opening key note speaker John Jacobs from Life is Good Company. Talk about an inspiring story! John spoke of his early days selling t-shirts out of a back of a used mini-van across the country at college campuses with his brother Bert. Their optimism and positive outlook on life started from their mom who each night at the dinner table asked "What is something good that happened today? and each sibling would share the best part of their day, silliest moments, and more. Camp is all about "Life is Good" and enjoying each moment, each memory, every friendship made and a lot of laughs. We were inspired by John's companies ability to do so much good in the world.
The exhibit hall gave lots of time to explore new exciting sports, climbing wall and lake equipment, clothing and give-aways, marketing ideas and so much more. We got to connect with many of our vendors and businesses who we work with from our camp clothing catalog and supplier (TheCampSpot), staff back ground checks (CastleBranch), website development (829 Studios), staff clothing items (Liberty Clothing), and insurance partner (Sobel Insurance), and lake equipment (Commercial Recreation Specialists). Those are just to name a few of the contacts we were able to meet with and plan for the best summer opportunities.
We had an opportunity to meet with Bob Ditter, a highly skilled family and social worker from Boston, to plan our upcoming leadership weekend in April as well as saw Michael Brandwein who will be training our staff during orientation week. During a two day lunch session with veteran camp experts, we discussed and planned for research and expansion of growing 21st Century skills in campers and staff. Camp is a great foundation to develop skills to make people successful not only in school but future job placement. Stacy participated in leading a session with five other camp professionals on planning for the future and Howard volunteered as the room monitor to handle all the needs of the participants. It was a full week of learning and gaining so many ideas, insights and future planning to continue to make Banner the best place for campers to learn communication, critical thinking skills, organization and life skills to lead them towards a successful future.