Banner Leadership
The people who work at Banner Day Camp strive to create an exceptional experience for each and every child
Executive Directors
As executive directors, Stacy and Howard oversee every aspect of Banner's program. As leaders of our team, they inspire Banner's staff and ensure that camp's vision, commitment to safety and goal to positive impact each child are upheld.
Stacy Schwartz Kotelov
Owner & Co-Executive Director
At Banner Since 1964 - Since the beginning!
Banner and my life go hand in hand. I grew up surrounded by camp and am so proud that Banner is part of my family. I have taken part in nearly every role at Banner – from camper to Leadership Team Member and everything in between! I am excited to continue my parents' vision of the first 50 years of camp as I have now taken the lead into the next generation of Banner. I enjoy guiding the Leadership Team and working with campers, staff and parents to create the very best Banner experience possible. Being at camp and implementing the customs, spirit and tradition of Banner is something that I truly love. It is so rewarding to watch how much our campers and staff grow throughout the summer. The Banner tradition continues on in my family. My husband, Paul, spent 20 years working at Banner, and my children Noah, Eli and Ari have spent their summers here and now work at Banner! Every day that I walk into camp, it fills my heart and soul. I still feel the same passion, love, joy and pride for camp and all that it stands for. I am so happy to have your family be a part of the Banner family.
Howard Thall
At Banner Since 1993
I feel so lucky to be able to spend every summer here at Banner. Camp is my year-round home and I enjoy working with almost every area of camp. I truly believe that there is no better place to be. Throughout my time at Banner I have had the opportunity to serve as an age-level director, pool director, and winter office manager. I am now partnering with Stacy to plan and run our camp program. I enjoy working with the Leadership Team and staff to create an excellent program for all of our campers. I have the great privilege of spending Banner summers with my children, Maddie and Sophie. I am excited for another great summer at camp and hope that all your children have a wonderful and growthful camp experience.
Leadership Directors
From planning and participating in activities, supervising and guiding staff and addressing individual camper needs, our Leadership Team is driven by the idea that the best camp experience is born from providing quality supervision and expert care.
Niki Papak
At Banner Since 1999
I am so excited to have spent over two decades at Banner! As the program director, I spend my days creating and implementing activities and events at camp and working with the program Leadership Team. I sincerely believe that Banner offers the most exceptional camp program around. I find great joy in interviewing and working with the staff and know that they are what make Banner so incredible. Before working at Banner year-round, I taught middle school Spanish. While I often miss my class of eighth graders, I am still able to use my passion for teaching here at Banner and I get to see the growth the campers and staff make all summer long. My son, Thor, has spent every summer of his life at camp and I have seen first-hand as a parent the unique social growth and skill development that happen at camp. I hope that you and your campers have the very best summer here at Banner and I feel honored to be a part of your Banner family.
Melanie Mann
At Banner Since 1995
I have spent all of my adult life here at Banner and look forward to continuing the adventure of overseeing the Junior camp and working with the Banner Leadership Team & staff. My entire family is here at Banner sharing in such a heartwarming and fun experience! Charles, my husband, also works at camp leading the Senior camp. Our two boys – Tyler and Kevin – talk about camp all year long and count down the weeks until camp. We love coming to camp every day! I get to see the tremendous impact camp has on so many people's lives – a place to make friends, gain self-confidence and try so many new, exciting activities and adventures. I have worked year-round at Banner for more than 20 years and it is very rewarding to plan and organize Banner's exceptional program, train and teach our newest Leadership Team members, and work closely with numerous staff members and campers. I have the benefit of communicating with so many Banner families and working with all aspects of camp. Please let me know if there is anything I can do for you or your camper. I am eager to once again get camp started and look forward to talking with you soon.
Charles Mann
At Banner Since 1994
I have been a part of Banner Day Camp since college. I began at camp as a counselor and have spent over 20 summers serving as a Leadership Team member. I oversee the entire Senior camp and work with your age-level Leadership. Banner is also a part of my family; my wife Melanie works at camp and my two sons are here as staff & CIT. During my "non-Banner" months, I am the Social Science Department Chair at Vernon Hills High School. I also serve as an Adjunct Athletic Director in the fall and enjoy coaching the Varsity Boys Volleyball team in the spring. I am ready for the summer to begin and cannot wait to meet your camper and create a positive experience.
Ron Port
At Banner Since 1988
Banner is not just a job for me; Banner is home. I have been blessed with having the Banner experience in my life for over 30 years and have done much of my own growing here at camp. Through Banner, I have formed unforgettable relationships with others by being a counselor, mentoring counselors, training our bus drivers and working with the bus routes. During the school year, I am a technology teacher in North Chicago. My daughter, Lilly, is a Junior Counselor at Banner as well. It's amazing for me to see camp through her eyes and to share the experience with the other Banner parents and families. I hope your experience at Banner this summer is as wonderful as mine always is and will be.
Aaron Kahn
City Transportation Director
At Banner Since 2022
I am thrilled to be returning to Banner as part of the year-round Leadership Team, focusing on transportation and logistics. I previously worked at Banner as a Specialty Counselor & Bus Driver. After graduating from college, I transitioned into a marketing & merchandising career in the consumer electronics & video game industry, where I have spent 13 years. My time at Banner had left an indelible impression on me. Having an opportunity to return to camp had always been a dream of mine. I am so excited that this dream is now a reality. Jamie, my wife, also works at camp as a member of the Leadership Team, and our daughter Shayna is currently a Banner camper. I look forward to sharing the Banner experience with campers and families this summer.
Brad Greenberg
At Banner Since 2000
I am so excited to have spent over 20 years at Banner with the last decade of it being on the Leadership Team. I am the Athletic Director and help to coordinate all specialty areas. I love working with the campers and helping them have fun while developing their skills and confidence. I am currently a physical education teacher at Kipling Elementary School in Deerfield. I met my wife, Lisa, at Banner. My daughter and son, Joie and Blake, are both Banner campers.
Becky Hasselson
At Banner Since 2004
As your Pool Director, I spend every summer at my favorite place – the Banner pools. I love to swim and have a strong background in teaching swim instruction and lifeguarding. I was a former middle school teacher, but now spend my school year at home with my son, Noah, and work part-time in the Banner office. Noah loves everything at Banner and I enjoy seeing the excitement of camp through his eyes! I'm a Starguard Elite Lifeguard Instructor and train all Banner lifeguards and swim instructors. My goal is to ensure that all campers have a safe and positive swim experience at Banner and I am available to talk about your camper's swim progress anytime.
Ryan Callahan
At Banner Since 2011
Banner is truly my happy place, I couldn't image spending my summers anywhere else! As a member of the year round team, I focus on recruiting and interviewing staff, leading our pre-camp team to set up our camp facilities and organizing our senior elective programming (along with all the other things that pop up during the year). Prior to joining the year round team, I was an elementary school teacher for five years in third through fifth grade. I also have experience teaching preschool and middle school students and coaching basketball. My favorite part of being at Banner is cultivating great relationships with the campers and their families. It's amazing to see the campers grow, try new things and create lifelong friendships.
Leadership Team
Each age-level and specialty area has multiple Leadership Team members responsible for working with the campers and staff.
Administration
Our year-round administrative team helps to make sure that every question and detail are answered and met with professionalism.
Jessie Hoffman
At Banner Since 2005
Every summer at Banner is more rewarding than the last. I work in the Banner office year round and spend the majority of my day overseeing day-to-day office communication. In preparation for each summer, I coordinate, train and license all of our bus drivers. I work closely with the entire Leadership Team and office staff to ensure that all of your phone calls and questions are answered promptly and to guarantee each camp day runs smoothy! Outside of my work at camp, you can find me hanging out with my husband, Justin, and our son, Lucas, who is also a Banner camper. I look forward to seeing familiar faces and to meet as many new campers as possible every summer.
Alyssa Thornburg
Design & Marketing Coordinator
At Banner Since 2014
I am so grateful to have found a home at Banner Day Camp. As a member of Banner's administrative team, I spend my days in the office creating marketing, advertising and social media content as well as designing all communication sent home to our camp families. Outside of camp, I spend my days with my two daughters, Quinn and Nora, who are both Banner campers. I love being able to watch them experience camp and see how much they have grown during their time at Banner.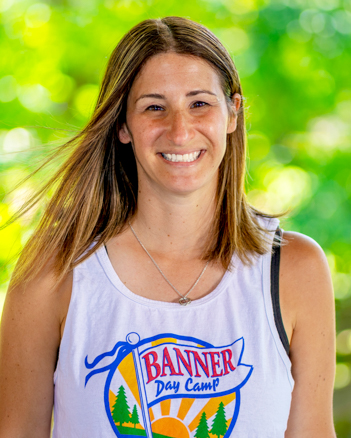 Robyn Boumstein
At Banner Since 2020
After spending years in the hospitality industry I am so happy to have joined Banner's administrative team. I love the sense of community and enjoy being part of an industry that does so much in the lives of children. Although I spend most of my time in the Banner office, I appreciate the chance to get outside and experience the joy of the campers at play. I'm a graduate of Lynn University in Boca Raton, FL. Outside of camp, you can find me spending time with my husband, Jason, and three children, Jacob, Jillian and Hailey who are all Banner campers as well as my dog, Payton.
QUALITY SUPERVISION
Each age-level and specialty area has multiple Leadership Team members responsible for working with campers and staff. Every age level is then broken down into much smaller divisions supervised by a single Leadership Team member. This structure allows members of the Leadership Team to work with their specific groups continually throughout the camp day.
EXPERIENCED STAFF
Every person who applies for a job at Banner goes through a thorough, face-to-face interviewing process and multiple reference checks. Banner only hires staff members who are highly qualified to work at camp. All staff members undergo an intense, week-long orientation. Banner's orientation includes training in safety, child development and camp procedures.
COMMUNITY-FOCUSED FUN
From planning and participating in activities, to supervising and guiding staff, to addressing individual camper needs, our staff is committed to ensuring that each camper experiences the best summer of their lives! With a 3:1 staff to camper ratio, our enthusiastic staff members meet the individualized needs of each camper to ensure safe and community-focused fun.
My daughter just finished her first summer at Banner and could not have loved it more! She learned independence, gained confidence, made lots of friends, and spent her days outside with the most wonderful and caring staff. We are already counting down the days until next summer!

Marnie, Camper Parent